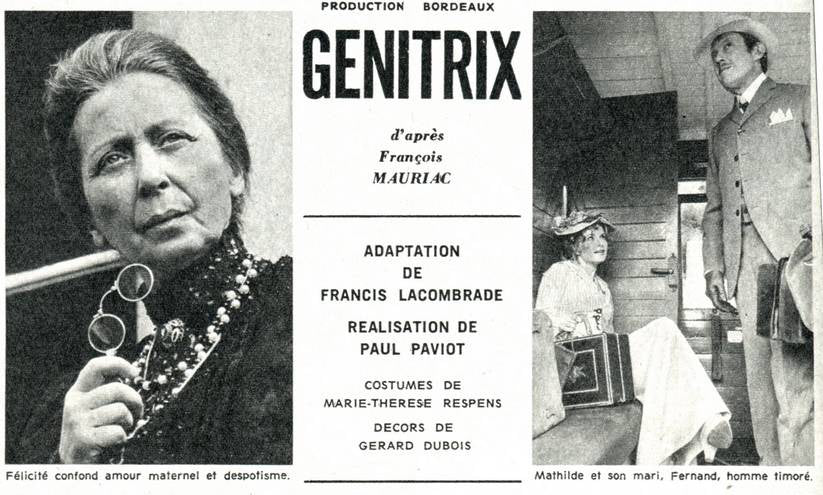 Celebration of the Centenary of François Mauriac's First Grand Best Seller, Genitrix
Maison Petrusse
07/11/2023
For over 100 years, our ateliers Petrusse have resonated with the pen of François Mauriac.

For over 25 years, excellence has been our thread. Creativity, the link with artists and the art world, our pigment. We have always celebrated the combination of culture and craftsmanship. We believe in the power of art to inspire, transform, and unite.

Passionately, we craft stoles in our ateliers located in the heart of the Bordeaux vineyards, at Château Mauriac. They symbolize our artistic and artisanal roots—a romantic place whose stones inspired François Mauriac, Nobel Prize in Literature.

We always emphasize that each scarf tells a story. This Sunday, November 12, 2023, it is our Château Mauriac that will tell its story because Genitrix is turning 100!

"She gazed into the depths of her being like a sky where one dares not believe that the storm is moving away. To live, perhaps! To live!" François Mauriac, Genitrix, 1923


Sunday, November 12, at 10:30 AM, for a special morning, let's celebrate together the 100th anniversary of the publication of François Mauriac's novel.


Join us at Domaine de Malagar at 10:30 AM. Explore the ground floor of the writer's house where objects and some pieces of furniture even contribute to the sensitive composition of the novel. Through precisely selected digital resources for the occasion, we will delve into Genitrix, from its creation to its legacy, and revisit the conditions of its publication.
The visit continues at Château Mauriac in Langon at 11:30 AM. Tour and readings of excerpts at the heart of the castle that served as a backdrop for the novel. The workshops of Maison Petrusse and their owner, Florence Lafragette, exceptionally welcome us on this anniversary.

A beautiful and vibrant tribute, relayed after the visit to Malagar at Château Mauriac in Langon, the inspirational setting of the novel, through a reading of some passages.

An exciting challenge that the owner, Florence Lafragette, President and Artistic Director of Petrusse, will joyfully take up aloud.

Located below the hill where Malagar stands, just across the Garonne River, this sublime and striking charterhouse, with beautiful Empire-style pavilions, was created by François Mauriac's grandfather, Jacques Mauriac, in 1864.

Practical Information:
20 people (max.)
Duration: 2 hours
Fee: 15 euros/person
Reservations required at 05 57 98 17 17 - accueil@malagar.fr
No shuttle between the 2 sites, carpooling and biking strongly encouraged."
https://malagar.fr/actualites/article/genitrix-a-100-ans
Photographies du vidéaste Denys Beaumatin. Modèles Clara et Alice Stelfox.
Photo in Black and White, archive of Malagar.