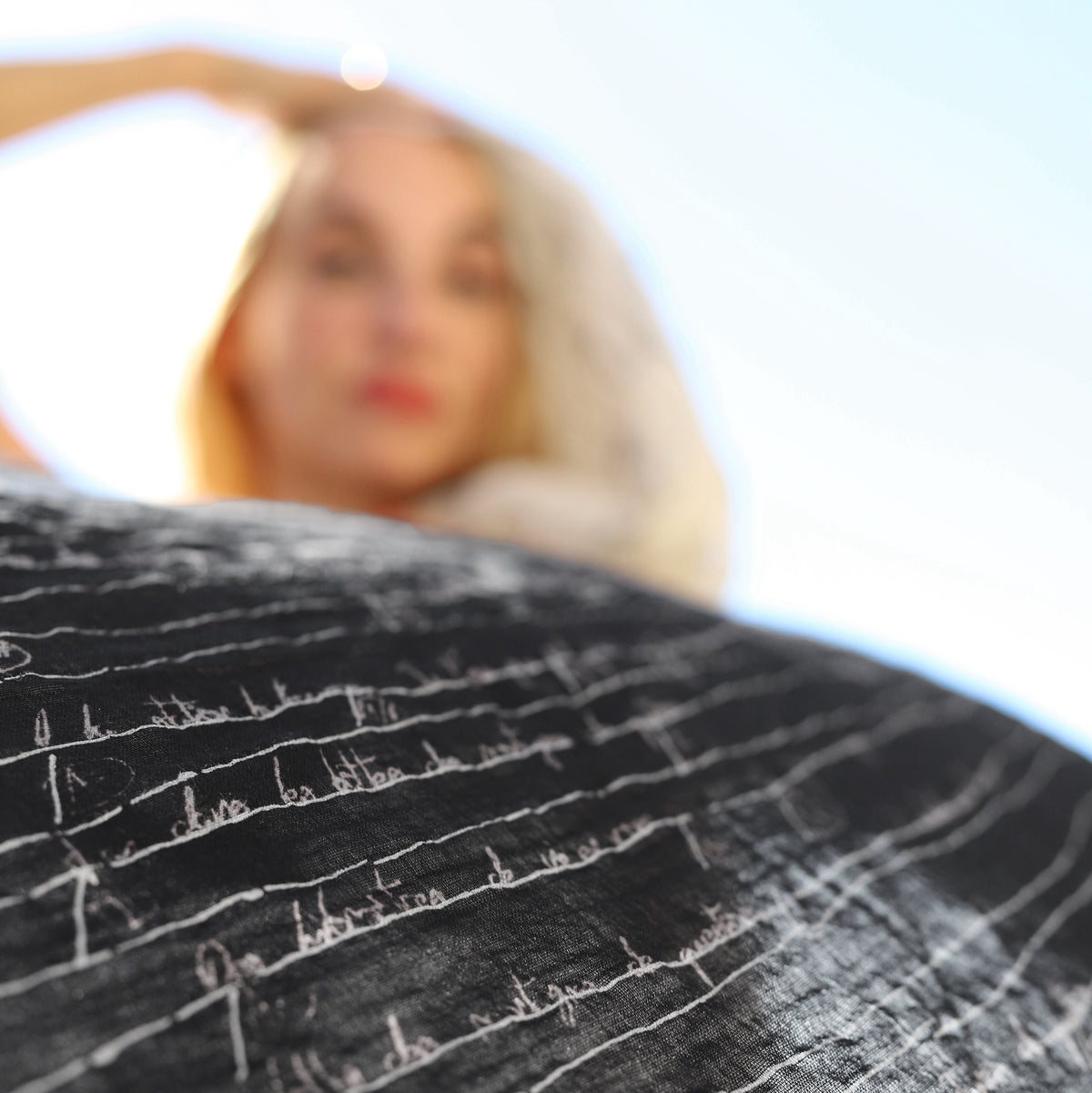 Tribute to Alain Bashung
Maison Petrusse
01/12/2021
SECTION:img+txt:
OPTIONS[background|img_cta=Chloé Mons]
A stolen where your echo still remains
Chloé Mons and Maison Petrusse are launching a stole in concert to the tunes of success by sealing a meeting and an unprecedented project: that of a multi-talente artist and a composer of stoles and good waves.
Under the spotlights, presented in preview at the Vincennes film festival, under the high star of Alain Bashung, Chloé Mons and the Petrusse house pay homage to Alain Bashung while dreaming, creating and composing four hands a symbolic stole and emblematic in his memory.
Alain Bashung awarded 13 times at the Victoires de la Musique is inseparably linked to French song and rock. He has influenced a large number of artists and continues today to vibrate the words on a Partition of a new genre: a scarf available in black and white taking up the mythical words of his famous song At night I lie. His memory and his memory reason in our hearts; His music continues to enchant us.
SECTION:txt+img:
OPTIONS[font=Arial]
"It's been a long time since I dreamed of a scarf with the words of Alain Bashung. This idea that words that we love can stick to our skin continued me. A sensual and intimate body-to-body between thought, art, music and skin. I had the chance to meet the Petrusse house and they transformed this dream into reality. It's wonderful. "Chloé Mons
"This stole is a strong bond, a link, a testimony, a tribute as well as a magnificent moment of sharing and creativity." Florence Lafragette, artistic director of Maison Petrusse.
At night I lie is a song where all the fantasies are possible. Why not that of carrying the sweet partition against you, the strength of the words of this emblematic song. The music was placed on a fine cotton stole. The words have found all their essence in this research work that brought Chloé and Florence to recompose a Bashung alphabet to weave the most faithful history possible.
Through this unprecedented collaboration, Maison Petrusse and Chloé Mons unite to make us vibrate and warm our artists' souls. Between passion and creativity, excellence is invited in every detail of these stoles: Eole in a limited edition to wear by listening and listening to the music of Alain Bashung or Chloé Mons.
SECTION:img+img:
OPTIONS[font=Northwell Clean Alt|[cta=Commander Bashung Blanc**/cart/add?id:39519930024007&quantity:1]]
White bashung
[COL]
OPTIONS[font=Northwell Clean Alt|[cta=Commander Bashung Noir**/cart/add?id:39519930122311&quantity:1]]
Black bashung
SECTION:img+txt:
OPTIONS[background|img_cta=Chloé Mons]
About Chloé Mons
Actress, singer, musician, writer, Chloé Mons explores a wide artistic palette.
For this stole, it was completely involved. During his visit to the workshops of Maison Petrusse at Château Mauriac, guided by his instinct and by his sense of the essential, the choice of night I lie naturally imposed himself: it is an adored song of the French, But it was also the song that made Chloé and Alain met, during the clip produced by Jacques Audiard. The memory of this extraordinary moment, that of a meeting that changes life, crystallized to become an stole with the scent of destiny.
It is symbolically officially revealed this December 1, 2021, Alain Bashung's birthday. This December also marks the release of the album "Globe-Trotter" by Chloé Mons.
SECTION:txt+img:
OPTIONS[font=Arial|img_cta=Château Mauriac]
About Maison Petrusse
Composer of stolen and good musically inspired waves.
For more than twenty years, excellence has been our weft thread. Creativity, link with artists and art world, our pigment. Targeted ? The beautiful horizons.
Through the work of the fabric, the Petrusse house cultivates a precious know-how. From the nobility of materials to the beauty of ancestral gestures, it is with patience and requirement that it reinvents the greatest traditions weaves.
The Petrusse house has always famous for the alliance of culture and crafts. Inspired by artists, she forged a free spirit and a vibrant signature, where color, tirelessly, serves expression and emotion.
It is in full awareness of the time and its issues that the Petrusse house looks at the future. Between social and environmental responsibilities, it is for her to create meaning and link. More than ever, solidarity to think about the future.